Our studio is at the forefront of technology, handling all types of files to produce the client's proofs. All our colour proofs are colour profiled to the printing presses so that clients can approve their proofs with confidence. Printing plates are produced using the latest computer to plate technology that ensures ultra sharp images and smooth tint work. The studio uses a pre-flight checking system that eliminates file glitches and differences between the digital proofs seen by the client and their printed jobs.
Out client's print files and then stored and backed up to secure Removable Hard Drives and off-site servers for a minimum of three years. Reprints or file updates and easily processed with minimum fuss to the client.
All PC and Mac software packages are used and updated to the latest version to keep up with the latest file formats used by our clients. We are fully conversant with transfer of data via all upload software and FTP sites using fast upload Broadband. Additionally, we offer all clients full asset and data management storage on our secure server.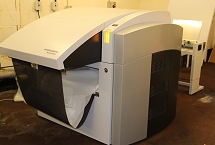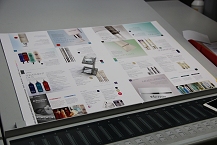 Because we produce high-resolution proofs using the latest digital colour proofing units, there are no materials to throw away if your designer or advertising company have made a typographical error or bad choice of colour. We will do the corrections as part of the inclusive price quoted – so no one needs to get 'fired' for being human!
Workstations
8x PC and Apple Mac Pro workstations
Software
QuarkXPress 8.x, Microsoft Applications, Adobe Acrobat 11.0, Adobe Illustrator CS5, Adobe InDesign CS5, Adobe Photoshop CS5, Adobe PageMaker, Adobe Streamline, Corel Draw, Macromedia Freehand 10, Mark Ware Flight Check, Heidelberg Signastation
Scanning
Drum and flatbed high-resolution image scanners
Plate setter
1x Heidelberg Suprasetter plate setter B2 size
Digital Proofing
2 x Epson large format proofing machines – 6 colour digital proofing units with ICC colour profiles (profiled to match printing presses)
Xerox 700
SRA3 duplexing digital printing press that prints on a wide range of papers and boards.
Wet Proofing
Full range wet proofing service
4 colour process and specials
Colour Control
CIP colour calibrated file control between pre-press and printing press